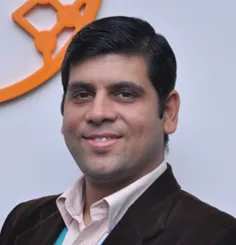 Sanjeev Sharma is General Manager – Service Delivery, HR Global Operations at Ericsson India since July'2016. Before this he was General Manager & Head – HR Shared Service Centre (Region India & Middle East Asia & Africa) at HR Global Operations at Ericsson India from August'2013 till July'2016.
In his current role he is responsible for driving Transformation & Transition Projects for generating Headcount & Cost Efficiency, Robotics Process Automation Projects, CMMi Certifications for HR Operations Global Team with more than 500 resources (spread over 20+ countries & 6 major service centers) catering to HR delivery for Ericsson globally. Before this he was Head-Regional Shared Service Center (Region India & Middle East Asia & Africa), at HR Global Operation at Ericsson India, where he was managing complete Employee Lifecycle (Hire to Retire)activities viz. Managing HR Help Desk (HR Direct), Onboarding & Inductions, Payroll & Time Management, Employee Insurances, NPS & Benefits Administration, Exit Routines etc. thru a team of 50 dedicated resources (present on-shore & Off-shore) to an employee base of 30000+ based out in almost 30 countries across India & Middle East Asia & Africa. He was pivotal in setting up of Regional Shared Services Center & Global HR Help Desk in India . Prior to Ericsson he was associated with Panacea Biotec Ltd., where he was responsible for Payroll Operations including statutory compliances, Employee Insurance Management, Exit Management etc. He was Core Team Member for successful implementation of SAP HRMS (OM, PA, Payroll & Time Management) in Panacea Biotec.
What sets his assignments apart in Ericsson is the fact that he has lead the team from the front and has been pivotal in building & nurturing the team which has resulted in a highly motivated team further leading to improvement of Service Levels and satisfaction scores and enhanced Employee Experience. These success stories created the base for the entire team to have participated in SSON (Shared Services and Outsourcing Network) forums in Singapore in 2016 (Silver Award for Best Process Innovation, Bronze Award for Best Shared Services Team) & Europe in 2017 – where the team won SSON Excellence award for Best process Improvement/Innovation.
Sanjeev is post graduate in Human Resources from LBSIM & driving enhancing of Employee Experience is his passion.