The popularity of online education has increased with advancement in technology and improvement in user experience. Online learning has been proven to be successful and comes with various benefits.
It gives the learner access to best faculty from all over the world, helping them develop skills and opening doors to new opportunities. Another main advantage of online education is its format of flexible learning hours. There isn't any set schedule and one can learn as per their own comfort. Along with the benefits, online learning now has become the need of the hour, due to the pandemic. With the sudden shift away from the traditional learning method, all around the globe, online learning is here to stay.
There are a number of online degrees, from Certifications to Global MBAs, available in this day and age.
We have created a list of the best universities, in order of their ranking, that offer online degrees in India.
The parameters that have been considered are:
University Accreditations
Faculty
Learning Flexibility
Career Outcomes
Placement Assistance and Internship Opportunities
Projects and Assignments
Program Pricing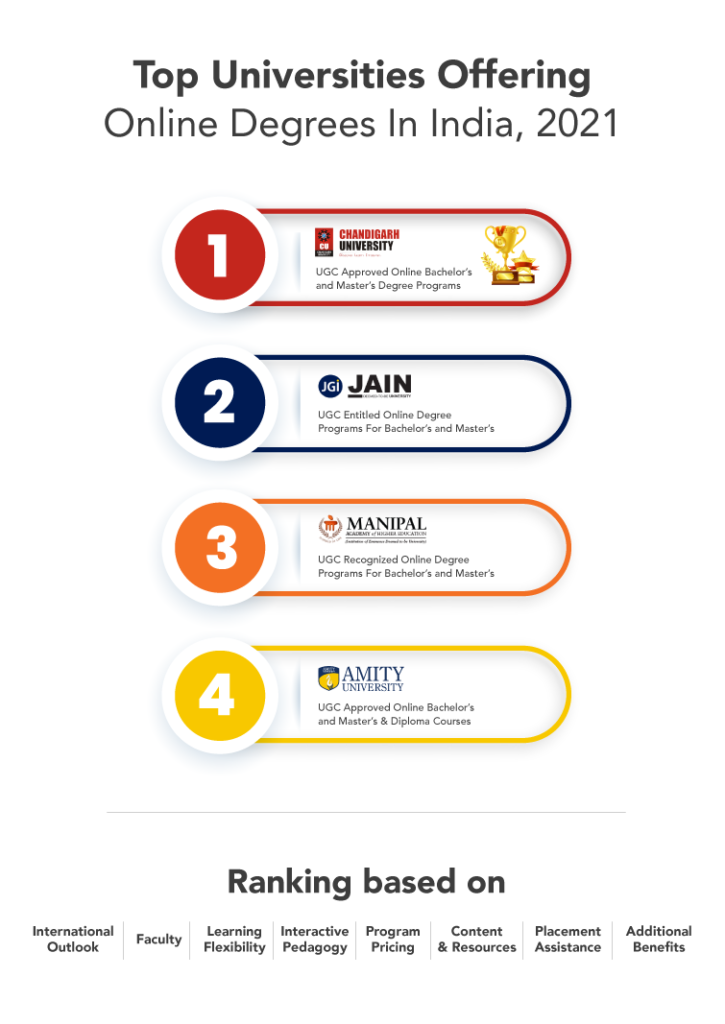 Chandigarh University
Topping the list is the UGC recognized and NAAC A+ accredited Chandigarh University, LMS powered by upGrad, India's largest online higher education company. The university offers various Undergraduate and Postgraduate programs, from Business Administration, Data Science and Computer Applications to Journalism & Mass Communication. Every learner gets access to mentorship and industry expert coaching along with Government exam preparation from 3rd semester onwards. The curriculum is designed with a practical learning-oriented approach to make the learners industry-relevant. There is scope here to become an all-rounder with personality development sessions at no extra cost. The University boasts of an eminent faculty, job-ready curriculum and conducts live lectures every 15 days. The Chandigarh University online degree powered by upGrad Technology also provides 360° career support. upGrad learners have recorded an average salary hike of 50%.
University has set a new record by offering 5000+ Placements during Covid: highest number of offers in North India with 28 LPA as the highest package in Management. Their partnership with upGrad Technology amplifies the value of the degree programs. upGrad brings cutting edge technology and a huge alumni network on the table.
Highlights:
450+ Hours of Learning
300+ Hiring Partners
Format : Online
Internship opportunities after program completion
Opportunity to go to Australia
First Indian University to hold Limca book of records for highest number of recruiting companies in a single academic year
Additional Merits: Interview Preparation Sessions, Doubt Resolution Sessions, Resume Building Workshops, 24/7 Student Support Team, Job fairs and webinars.
EMI options starting at Rs 3900/ Month
Jain University
UGC Recognized Jain University offers online degrees with learning hours and credits at par with full-time classroom programs. Doubt clearing sessions with faculty during live classes and discussion forums are an essential part of the curriculum, to ensure quality learning for everyone. The weekends are reserved for online mentoring sessions with leading industry professionals. The learners are encouraged to network with alumni and get career guidance support from the counsellor towards the end of the program for better understanding of job opportunities.
The University also has top companies like Facebook, Flipkart, HDFC, ICICI, Infosys, etc. as their hiring partners.
Highlights:
Format: Online
Additional Merits: 24/7 Student Support Team, Job fairs and webinars with industry experts.
Manipal University
Ranked among the top 25 young universities by Outlook, NAAC A+ accredited Manipal University offers various online degree programs, ranging from graduation to post graduation. The programs mainly involve 15-20 hours per week watching concept videos, reading learning material, attempting quizzes and attending live webinars. Students are assigned dedicated course mentors and coordinators to guide them through. The University believes in instilling practical knowledge amongst students through industry-relevant projects in each program.
A few recruiters with which the University has tied up are Accenture, Amazon, American Express, Axis Bank and other leading organizations.
Highlights:
Format: Online
Job Placement Assistance
Additional Merits: Access to student portal and E-library, Virtual Job Fair, Resume Building Workshops and Networking Opportunities.
Amity University
This UGC recognised university offers online degree programs, which range from Graduation, Post Graduation and Post Graduation Diploma.
Students are mentored by top industry leaders and teachers from Boston University, University of Sheffield as well as University of Wales. Learners here also get free life skills training for their personality development, along with portfolio building sessions.
Placement Partners at Manipal University include Infosys, Microsoft, IBM, Nestle, Sony, ESPN and other leading organizations.
Highlights:
Format: Online
100+ Hiring Partners
Additional Merits: Live Virtual Job Fairs, Doubt Clearing Sessions and Career Webinars.
To know more about each University, visit the links below: