An MBA degree from any of the Top Five online MBA Programs in India can help you build a successful professional career. Prestigious global organizations look for key leadership skills such as setting strategic goals, influencing stakeholders, and team management in their leaders. These skills learned from top MBA programs help professionals stand out among their peers. A good MBA program offers diverse experiential learning coupled with the latest technologies, industry insights, and a global perspective on business strategies.
It not only gives students immediate access to the most influential alumni networks in the world but also ensures higher starting salaries. Therefore, choosing the right MBA program is of utmost importance.
Many renowned B schools in India offer online MBA programs to learners worldwide. Several reputed universities and institutions have also collaborated with education partners to offer management courses.Online MBA programs curated by these universities offer the same curriculum and advantages as the full-time on-campus ones. These online programs are designed in such a way that even working professionals can pursue MBA without quitting their jobs.
While there are several management courses that are available online, we have curated a list of the top five MBA programs based on the below-given parameters:
University Accreditation
Pedagogy
Program Fee
Curriculum
Resource accessibility
Placement Assistance
Additional Advantages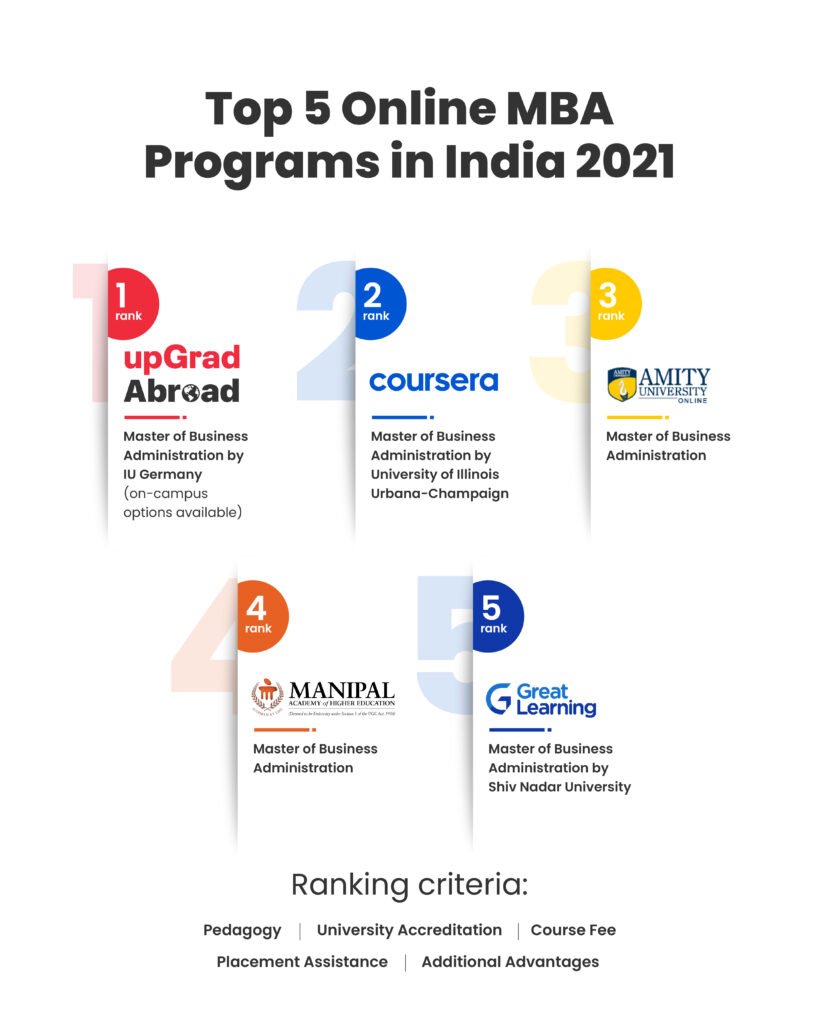 Top Five online MBA Programs in India
Master of Business Administration, upGrad Abroad and IU Germany:
upGrad Abroad's MBA program in collaboration with Germany's IU International University of Applied Sciences tops our list of best online courses in Masters of business administration. The unique MBA program allows students to study online for the first and second semesters and then progress to study the last semester on-campus at IU Germany. After completion of the course, the students get a degree and alumni status from IU Germany. With this blended study model, the students can save significantly on the overall cost of the course. Encompassing a mix of interactive lectures and core topics such as entrepreneurship, international marketing, performance measurement, corporate finance, managerial economics, and strategic management, this program seeks to develop future leaders with a superior learning experience.
Post completion of the course, students can get up to 18 months of post-study work visa rights. Additionally, upGrad Abroad offers end-to-end visa and application support to learners. Aspirants are not required to give IELTS or other language tests and their medium of instruction proof is sufficient for entry into Germany. Upon successful completion of the program, students will get an MBA degree from IU, Germany, accredited by the German state.
Program Highlights-
Unparalleled guidance and teaching assistance from industry mentors.
Doubt resolution sessions by industry experts.
Live sessions by experts on various industry topics.
End-to-end assistance in the admission process and visa application.
Free German language course on-campus.
Regular Q & A sessions.
Post-study work visa of up to 18 months.
Specializations offered- Finance & Accounting, IT Management, Data Management, International Marketing, and Engineering Management.
Duration- 18 months
Fees- INR 7,42,418
Mode of Learning- Online (1st & 2nd Semester) and on-campus (3rd Semester)
Master of Business Administration, Coursera and University of Illinois
Next comes the online MBA program offered by Coursera in partnership with the University of Illinois' GIES College of Business.The course is accredited by Advance Collegiate Schools of Business (AACSB).This career-focused program offers an innovative and cutting-edge curriculum, web conferencing, team-based projects, experiential learning opportunities, and face-to-face sessions to create futuristic leaders. With 470,000 strong alumni networks, students get to join a community of future global leaders. Students receive an MBA degree from the University of Illinois upon completion of the course.
Program Highlights-
Lectures and quizzes on-demand.
Students can schedule a meeting with professors and teaching assistants.
Durations- 2-3 years
Fees- INR 16,29,658
Mode of Learning- Online
Master of Business Administration, Amity Online:
Amity Online is Amity University's initiative to impart online learning to students. The MBA degree offered is recognized by University Grants Commission (UGC) and accredited by the Western Association of Schools and Colleges (WASC). The course offers12 specializations and the built-in projects help students understand the concepts better. You can get your hands on recorded lectures, engaging learner-centered content, and a continuous assessment system. The online MBA course by Amity Online is ranked 37th worldwide by QS World University Rankings in 2021.
Program Highlights:
Tailored programs for professionals.
Daily live classes by award-winning academicians.
Free certificates in advanced excel and professional & life skills.
Live lectures and webinars by industry bigwigs.
Continuous student engagements with career webinars, AskFridays, Virtual job fairs, etc.
Live doubt clearing sessions.
Duration- 2 years
Fees- INR 3,50,000
Mode of Learning- online
Master of Business Administration, Manipal University Jaipur:
An MBA by Online Manipal is a two-year-long course. The program offers specializations in Marketing, HRM, Retail Management, IT & FinTech, BFSI, Operations Management, and Finance. Accredited by NAAC and UGC, Online Manipal offers an advanced digital learning platform. Students here get the opportunity to learn at their pace.
Program Highlights-
Students can review the course module, watch recorded video lectures, and interact with peers and professors.
Students get exposure to real-world case studies and develop critical thinking skills.
It offers flexible professional development opportunities where students can learn at their pace.
Designed for an immersive learning experience.
Interaction with subject matter experts.
Regular Q & A sessions with faculty.
Career counselling.
Duration- 2 years
Fees- INR 1,50,000
Mode of Learning- Online
Master of Business Administration, Great Learning and Shiv Nadar University
Great Learning, launched in 2013 in association with more than 800 recruiters, has helped professionals successfully move ahead in their careers. Its MBA program in association with Shiv Nadar University comprises four different specializations in Human Resources, Marketing, Digital Finances, and Data Science and analytics. The program is in an interactive learning mode and has recorded classes delivered by experienced faculty from Shiv Nadar University. Personalized career assistance is also a part of the course. Students will receive an MBA degree from Shiv Nadar University after completion of the course.
Program Highlights-
Project-based learning.
Application-oriented industry programs mentored by industry experts.
Dedicated career assistance with a personal career coach, resume-building sessions, etc.
Skill development to solve real-world business problems.
Duration- 2 years
Fees- INR 4,00,000
Mode of learning- Live online interactions and recorded classes.
In conclusion, the two MBA programs offered by upGrad Abroad in collaboration with IU, Germany, and Coursera in association with the University of Illinois respectively are the best options to pick from when thinking of pursuing an online business administration degree. However, upGrad Abroad's online and on-campus learning model promises the best cost-saving and career-focused curriculum in comparison to all the others mentioned above. Also, with better career opportunities, upGrad Abroad MBA program offers the best ROI.