It's a data-driven world we live in. Irrespective of the domain, it is leading every major business decision. The call for the best Data Scientists has grown louder since the world has experienced a paradigm shift towards automation and digital work advancement. With a rise in demand, it becomes essential to stay updated on your skill sets. There are numerous online data science programs out there, but selecting the best is the most tiresome task. So we took the responsibility of curating an exhaustive list of the top online Data Science programs based on the services and support offered by the educational providers.
Parameters that have been considered –
University Accreditations
Faculty
Learning Flexibility
Interactive & Advanced Pedagogy
Program Pricing
Program Accessibility
Content & Resources
Placement Assistance
Additional Benefits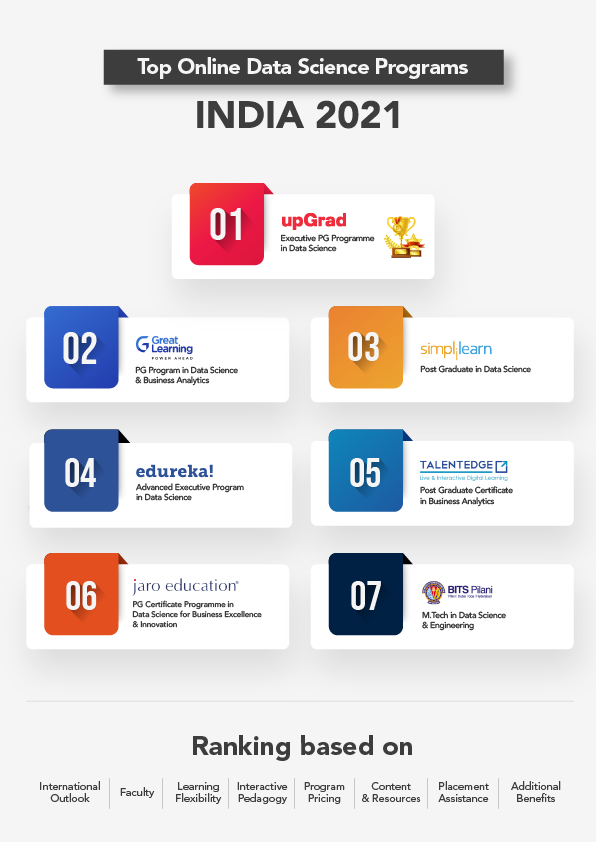 UpGrad & IIITB – Executive PG Programme in Data Science
Topping the list is India's largest online higher education company, owing to its advanced pedagogy, top-rated university partnerships and flexible learning. Every aspirant must be familiar with upGrad with its unique program catalogue along with the perks. upGrad, in collaboration with IIIT Bangalore, offers an Executive PG in Data Science where a learner has the liberty to choose a desired industry-relevant domain from any six specialisations based on the interest and profile. The six-specialisation curriculum provides an outcome-based, comprehensive learning experience that helps the learner with a smooth transition into the industry atmosphere. It also provides a 30-hour Python programming Bootcamp to non-technical students for smooth learning ahead. Also, no coding experience is required to pursue this program.
Highlights:
Duration: 12 months + 6 months Career Assistance
Specialisations Available: Data Science Generalist, Natural Language Processing, Deep Learning, Business Analytics, Business Intelligence/ Data Analytics, Data Engineering.
Additional Merits: Weekly Assignments,15+ Industry-driven Case studies, 60+ Industry Projects, 60+ Live Sessions, 10 Capstone Projects, Quarterly Hackathons, Profile-building Workshops, Peer networking, Company-specific Interview Resources, Mock Interviews with Industry experts, Lifelong Alumni Benefits.
Fees: ₹2,99,000 + No Cost EMI Options Available
Great Learning – PG Program in Data Science & Business Analytics
Great Learning has partnered with the University of Texas and Great Lakes to offer a course in Data Science and its curriculum has also been designed by the faculty of both institutions. Learners get to learn from the faculty of both the institutions and other practising experts. The curriculum is segregated into three parts; Foundations, Domain Exposure & visualisation & Insights. Every domain is covered using Analytical Techniques such as Time Series Forecasting, Optimisation Techniques, Advanced Statistics, Data Mining & Predictive Modeling. Dual Certification is awarded to the learner from The University of Texas and Great Lakes post completion of the program.
Highlights:
Additional Merits: Weekly Mentorship, 12+ Projects, Access to course content up to 3 years, Interview preparation, Recruitment drive every 2 months.
Simplilearn – Post Graduate in Data Science
Simplilearn, in collaboration with Purdue University & IBM, has curated the Post Graduate in Data Science that has an extensive industry-related curriculum. It includes masterclass sessions with Purdue University faculty along with Ask Me Anything sessions by IBM experts.
Learners graduate with dual certificates from Purdue University & IBM upon completion of the program.
Topics such as Data Science with R & Python, Machine Learning, Tableau training & NLP are covered broadly, which helps the learner to build a firm base in programming languages.
Highlights:
Additional Merits: 25+ projects, 3 Capstone Projects, Hackathons from IBM. 6-month IIM Jobs portal access, Lifetime access to the community forum
Edureka Masters – Advanced Executive Program in Data Science
Edureka has on-boarded two eminent universities, E&ICT Academy NIT Warangal and IIITDM Kurnool, for its Advanced Executive Program in Data Science. The curriculum for this program is curated by the faculty of NITW and IIITDM Kurnool along with other industry experts. It provides lifetime access to its learning management system and support. The program is tutored through a live instructor-led session in a high-quality lab environment.
Highlights:
Additional Merits: 20+ Projects, Weekly Assignments, 3 Capstone Projects, Hackathons, Access to 5 Job portals, 1:1 Mentorship sessions
Talentedge-Post Graduate Certificate in Business Analytics
Talentedge has introduced this program in partnership with XLRI Jamshedpur. It offers a practical business application curriculum across various domains like Marketing, Finance, HR, Supply Chain and Digital Media. Also, learners get a 1-week immersion session at the university campus of XLRI to experience and interact with the faculty and peers. The program is tutored by some of the best faculty members from the likes of IIM and IIT.
Highlights:
Admission Process: SOP + 1 Year of Work Experience
A Statement of Purpose(SOP) is a research statement or a letter of intent addressed to the admission committee that talks about your career interest for the specific program.
Additional Merits: Assignments, Projects.
Fees: ₹3,54,000
Jaro Education-PG Certificate Programme in Data Science for Business Excellence & Innovation
Jaro Education, a popular entity in the field of education, has partnered with IIM Nagpur to offer a tailor-made program in data science. The program offers a case study based learning headed through live sessions by industry experts along with a 5-day campus visit. Like Talentedge, the admission process here is also quite similar but instead requires a 2-year work experience for enrollment.
Highlights:
Tools Covered: 7
Learning Format: Online
Duration: 12 Months
Additional Merits: Weekend Live Sessions by Experts, Business Simulation Capstone Project
Fees: ₹2,77,300
BITS Pilani – M.Tech in Data Science & Engineering
BITS Pilani has been a profound leader in the field of education. It has now enhanced its teaching capability by extending its reach through an online medium. It has a Work-integrated Learning Programme as approved by UGC, to offer a diverse program to working professionals. The program is divided across four semesters, in which the first semester comprises the foundation course, the second and third are for the electives. In the fourth semester, learners can pursue a dissertation. The program is wholly headed by the eminent faculty of BITS Pilani.
Highlights:
Additional Merits: Industry case studies for electives